How did Contact Associates become a Disability Confident Employer?
21 May 2020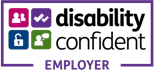 The scheme has 3 levels designed to support us at every step of our Disability Confident journey.
Level 1: Disability Confident Committed
We have agreed to the Disability Confident commitments and identified at least one action that we carry out to make a difference for disabled people.
The commitments are:
• inclusive and accessible recruitment
• communicating vacancies
• offering an interview to disabled people
• providing reasonable adjustments
• supporting existing employees
The activities include:
• work experience
• work trials
• paid employment
• apprenticeships
• job shadowing
• traineeships
• internships
• student placements
• sector-based work academy placements
As we had signed up for level 1 we progressed to level 2, a Disability Confident Employer, by self-assessing our organisation around 2 themes:
• getting the right people for your business
• keeping and developing your people
Disability Confident Employers are recognised as going the extra mile to make sure disabled people get a fair chance. Once we confirmed we completed our online self-assessment, we were registered as a Disability Confident Employer for 3 years.