Mental Health in Higher Education Environments
03 Dec 2020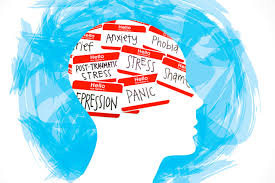 Since 2010 Contact Associates have supported 6000 students through HE who have mental health difficulties. This has increased from 5.86% of all students we worked with in 2012 to 23.07% in 2020 .
Every year all of our needs assessors complete a CPD in Mental health to allow them to better support students in HE.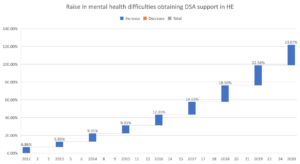 What are the national trends in Mental Health?
It is estimated that 1 in 6 people in the past week experienced a common health problem
Anxiety and depression are the most common mental disorder in Britain, with 7.8% of people meeting the criteria for diagnosis
4-10% of people in the England will experience depression in their lifetime
75% of mental health problems are established by the age of 25
An increase in the prevalence of of common mental disorders (CMDs) for 16-24 year olds, of over 25%
Prevalence of mental health disorders in Higher Education
Students are at a stage of transition between dependence and independence, at an age when the are negotiating significant developmental changes
64% of the university student population (and 83% of the undergraduate population) are between 16-24 years old
Levels of mental illness among students  in higher education in the UK are on the rise, and are higher than in other sections of the population
This age span encompasses the transition from adolescence to adulthood. The high risk period for onset of schizophrenia and bipolar disorder in late adolescence and early adulthood coincides with entering higher education.
As such , university student span an age range in which a wide spectrum of mental illness is seen
Impact of Mental Health on student's studies
New environments and new way of learning
Self-directed learning and the capacity to mange time and prioritise work
Academic decline that can result in the need to repeat academic years or even withdraw from university
Underachievement or failure at this stage can have long terms effects on self-esteem and the progress of someone's life
perfectionism
Competitiveness
Target Driven
If i work hard i will achieve
24/7 society unrealistic expectations
Financial Difficulties
Eight tips for talking about mental health
Set aside time with no distractions to talk to each other
Let your students share as much or as little as they want to
Don't try to diagnose or second guess their feelings
Keep questions open ended
Talk about wellbeing
Listen carefully to what they tell you
Encourage your students to take up the support recommended in the study needs assessment
Know your limits -reach out
Thanks to Optimum student support for providing some of this information to Contact Associates in our recent CPD event.